News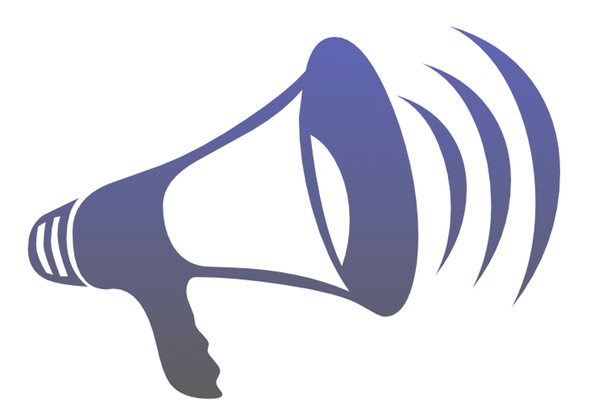 Job Title: Assistant Catchment Officer (Ecology / Agriculture)
Details: The Pearl Mussel Project is looking to recruit a temporary assistant catchment officer to work on our locally led results-based agri-environmental scheme for farmers (further info: pearlmusselproject.ie). The role will be based out of our Kerry office (Kenmare). The work will require a high proportion of time spent out of the office, working in four of our project catchments in south Kerry and west Cork. The position would suit a recent ecology or agricultural graduate. Training will be provided.
Salary: Equivalent of €25,000 per annum, plus travel and subsistence expenses. 
Term of Employment: 6 Months, commencing April 2021
Minimum requirements:
Degree in ecology or agriculture (or related discipline)
Full clean driving license
Self-motivated, with a proven ability to work under your own initiative
Have a positive and flexible approach to work
The following experience would be an advantage:
Knowledge and awareness of agri-environmental schemes
Knowledge of farmland habitats (peatland & grassland) and their indicator species
Understanding of the environmental requirements of Freshwater Pearl Mussel
Main Duties and Responsibilities:
Assist with habitat assessments and farm scoring
Verifying implementation of farm measures
Provide advice to farmers on implementing farm measures (under instruction from the 

Catchment Officer)

Assist with training of farmers and farm advisors
Assist with monitoring of environmental targets (terrestrial and aquatic)
Other duties as may be assigned by the Catchment Officer or Project Manager
How to apply:
Send cover letter, CV, and names of two referees by Friday 16th April to stephen@pmproject.ie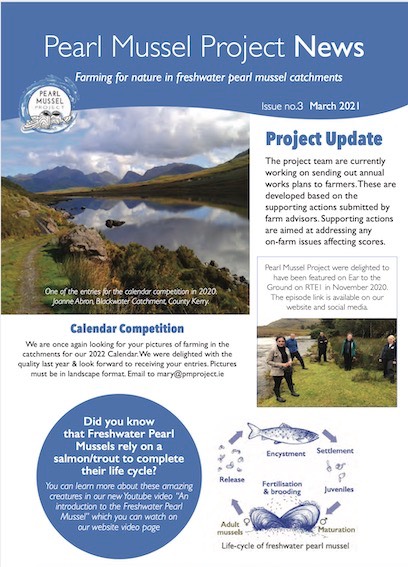 March 2021: The Pearl Mussel Project have produced a short farm newsletter with information on some of the latest developments within the programme, including reports of farmer meetings, our education programme, farmer news and a profile of Ian Kenny one our farm advisors. 
Download your copy of Pearl Mussel Project News, Issue 3 here. 
We hope to produce further issues of Pearl Mussel Project News during the programme. So check in again to see the latest programme developments.
If you would like to submit an article, photograph or item for inclusion in the newsletter which relates the programme email Mary McAndrew at mary@pmproject.ie
#pearlmusselproject #musselrivers #EIPagri #ruralnetwork
Did you know that Freshwater Pearl Mussels are endangered, that they can live to be over 100 years old, or that they rely on a fish to complete their life cycle?  
If you are interested in learning more about this amazing species check out our new education videos which cover the biology and ecology of the Freshwater Pearl Mussel, its importance to our river systems, and conservation measures being taken to help protect this endangered species.
Full length video version (21 mins) - watch it here
Short length video version (6 mins) - watch it here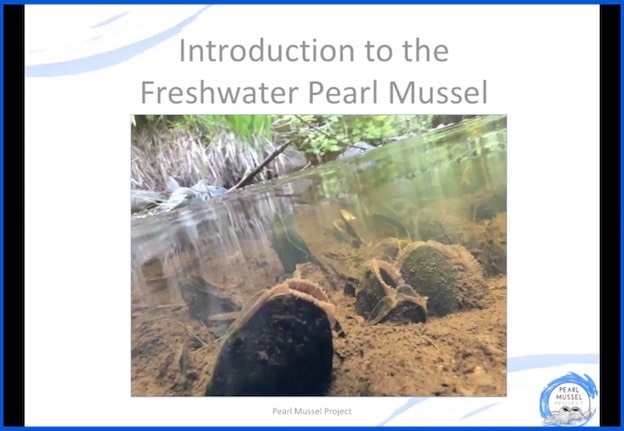 #pearlmusselproject #musselrivers #EIPAgri #RuralNetwork @DeptAgriFoodMarine