News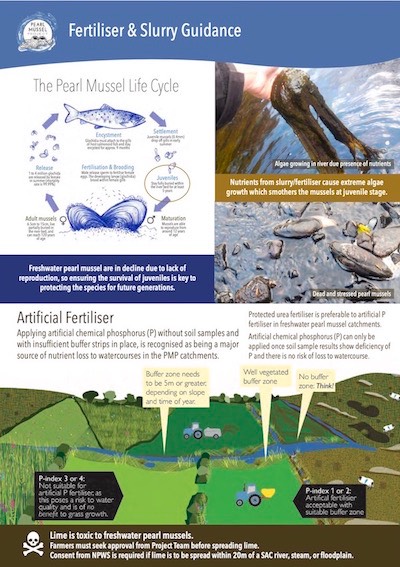 Following on from recent reports of high algae content and high ammonia levels causing distress to Pearl Mussels in some of our catchments, the PMP team have designed a Best Practice guidance leaflet for slurry and fertiliser application.
These leaflets will be distributed to all PMP participants over the course of the summer at our farmer training events. We hope this will enable us to have open discussions with farmers on best practice and help come up with practical solutions for individual farms.
We are also delighted to be launching our environmental workshops this summer, these are a pilot measure within the programme targeting specific issues within a catchment and helping aid discussion and knowledge transfer with the farmers.
The Fertiliser & Slurry Guidance Leaflet PDF can be downloaded here.
#pearlmusselproject #musselrivers #EIPagri #ruralnetwork @DeptAgriFoodMarine ‪@Teagasc @LAWProteam @farmingfornature‬