News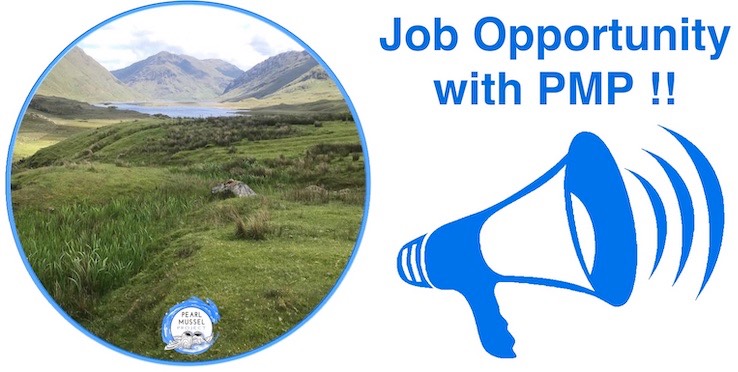 Job Opportunity - Catchment Officer (Agri-environmental)
Employer: The Pearl Mussel Project Limited
Location: Kenmare, County Kerry (hybrid working arrangements considered)
Job Type: 9 month fixed term contract, full time (to end March 2024) 
Salary: Attractive salary package, dependant on experience
Closing date: 30th June 2023
Role / Position: The Pearl Mussel Project is a locally led European Innovation Partnership (EIP) funded by the Department of Agriculture, Food and the Marine, which runs a voluntary results-based agri- environmental scheme for farmers within eight priority catchments. The overall aim of the scheme is to promote farm management tailored to maintaining and improving the local environment with a view to securing the long-term conservation of freshwater pearl mussel (Margaritifera margaritifera) in Ireland.
We are currently recruiting a catchment officer for the south-west catchments (south Kerry and west Cork) area based in the Kerry office. The role will require the successful candidate to travel between the four catchments in their respective areas on a regular basis, and they will likely spend a high proportion of time out of the office.
Main duties and responsibilities
·       • Main point of contact between farmers and the project team;
• Continual liaison with the farming community in four of the project catchments;
• Review supporting action claims;
• Provide agri-environmental advice and support to participant farmers;
• Liaise with and provide support to agricultural advisors as required;
• Organise and provide training for participant farmers;
• Planning and conducting monitoring surveys and fieldwork;
• Work closely with the western catchment officer and the wider team;
• Assist in the organisation of the end of project conference; and
• Contribute to end of project reporting as required.
Qualifications and experience required
A degree in agriculture, ecology, or related discipline;
• Minimum of 3 years relevant work experience in the agricultural / environmental sectors;
• Knowledge and awareness of previous and present agri-environmental schemes such as
REPS, GLAS, Hen Harrier Programme, Burren Programme, ACRES etc. Knowledge of results-
based schemes would be an advantage.
• Strong knowledge of peatland and grassland habitats and their indicator species;
• Experience in the preparation and monitoring of farm plans;
• An ability to identify issues at a farm level that pose a threat to freshwater pearl mussel, and
identify solutions which give due consideration to the environment and farm operations;
• Excellent communication skills;
• Exceptional organisational and project management skills;
• Must be comfortable using Microsoft Office and ESRI ArcGIS or other mapping software;
• Must be self-motivated and have a proven ability to work under their own initiative;
• A positive and enthusiastic attitude;
• Have a pragmatic, solution driven and flexible approach to work;
• A willingness to actively participate as part of a wider multidisciplinary team;
• An ability to manage their own workload, ensuring that work is carried out on schedule; and
• A full clean driver's licence.
How to apply:
Send cover letter, CV, and two referees by 30th June 2023 to:
Dr Patrick Crushell
Project Manager
The Pearl Mussel Project Ltd
Bell Height
Kenmare
County Kerry
Tel: 064 6642524
E-mail: patrick@pmproject.ie  Web: PearlMusselProject.ie